The questions I seem to get asked the most these days is how did I start diving and what made me decide to learn. Technically, I started diving when I was 13… I was at a resort in the Dominican Republic and did one of those "learn to dive programs"  that a lot of resorts offer to guests. To be perfectly honest I don't remember a lot from it besides getting terribly sea sick the first day and being amazed by the giant sea urchin the instructor held out for me on the second day. Oh and I kicked my brothers regulator out of his mouth without realizing it… he was 11 at the time and didn't panic, just reached back and grabbed it again; future Divemaster in the making! It took me a few years after this experience to actually get certified myself.
The biggest inspiration for me starting to dive was seeing my Dad fall in love with the sport. My brother and Dad were certified the year before I decided to do it… I was super jealous of all the cool things they got to see in Spain on our family vacation, as well as all the wrecks they were diving back home in Ontario. Being an aspiring marine biologist and being stuck on the shore or snorkeling was not enough for me. So after my first year of University I decided to take the plunge!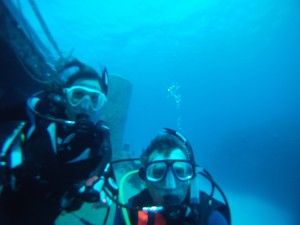 My open water class was a great experience and I had some of the best instructors teaching me… from then I was hooked! I continued on every summer from there getting a new certification and now have joined the PADI professional ranks as a Divemaster.  Diving has opened so many doors for me and I have met some of the greatest people. I have seen and done some amazing things because of it, including swimming with wild sting rays and sharks, exploring caverns and wrecks,  diving in water below freezing where even the fish didn't want to move (seriously though… I picked up a flounder and he didn't even try to move away from my hands) and working at Ripley's Aquarium of Canada for a year.
For anyone interested in getting certified I say go out and do it! You'll fall in love with what the underwater world has to offer and meet some amazing people along the way. The best way to stay involved with the sport is join a club and meet some local divers. I am a member of York Region Scuba (YRS) who organize local summer trips in Ontario, as well as trips down South for some warmer diving! You can find them here:
http://yorkregionscuba.com/index.php
or on Facebook:
https://www.facebook.com/groups/yrscuba/
Although I am out on the East coast now, I still keep my ties with YRS and for anyone in the GTA interested in getting certified I can lead you in the right direction to make that happen! I've helped several people get certified in the last year and they have all come out of it loving it and joining in on the YRS fun.  Currently, I am working as a Divemaster at Oceanquest Adventure Resort based out of Conception Bay South, Newfoundland, as well as an active Scientific diver for my Master's research at Memorial University. Needless to say I spend more time in the water than on land.
Remember, the world is 79% water… don't limit yourself to only 21%.
Happy diving 🙂